Speedy Fast Deployments
Greetings all you Deployees…Deployers?😬… Anywho, whatever we call you, we're assuming you're here because you have finished your Salesforce build and now you are ready to deploy it to a new org! We know what you're thinking - how I can move this data without enduring the torture that is Salesforce's change set interface? FuseKit Deploy Tools are here to help! 😄
---
Metadata vs Record Data – the Age Old Question
Before we get crackin', let's get our terms straight. Metadata is information about record data - it describes and gives details about it. Using Salesforce terminology, an Opportunity to sell a 1992 Ford to Bob Jones is an example of record data. Any of the information you store about Opportunity records (Name, Email, Contact, etc.) is the metadata. If you ever get confused (of course you won't ), just remember that metadata always has an API name. With all that said, this page is all about deploying metadata. If you are looking to deploy record data, go ahead and jump on over to the Deploy Relational Record Data page under the Advanced Use Cases section.👉
---
FuseKit Deployment Process
Are you ready? Okay! Rocking your deployment can be as easy as simply using the Build Metadata Package tool to grab your components, and then the Deploy Metadata tool to launch them into your target environment. So what are all the other tools for, you ask? 🤔 Well, deployments are an ever changing and challenging part of developing on the Salesforce platform – the tools and flow you use will depend on the environment strategy, deployment timeline, and people involved. Keep reading and we will dig into each of the FuseKit Deploy tools and describe some use cases to show how powerful and useful they can be!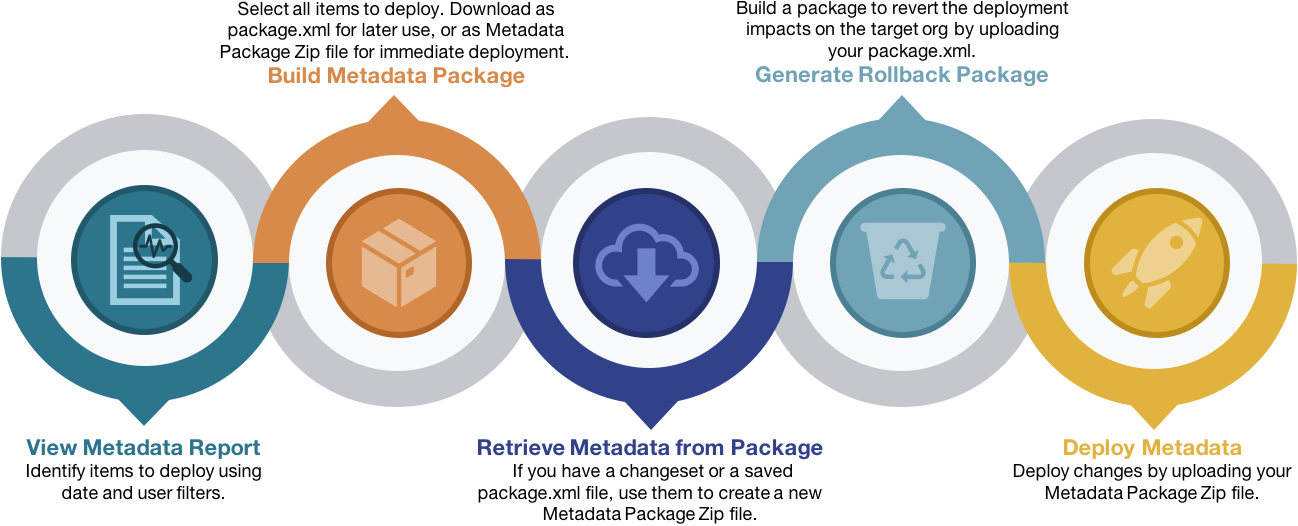 ---
View Metadata Report
The View Metadata Report feature lets you view and download different types of metadata, narrowing the results down with user, date, and name filters. This is handy if you're prepping for a deployment and need to create a metadata audit. It's also useful if you're a Developer or an Implementation Consultant who just needs to remember what the heck you created the last couple weeks. 😅
Get started by selecting your org, your metadata types and apply any filter criteria you want. Then select any components you want to include. All that's left is to download the Excel file!
---
Build Metadata Package
The Build Metadata Package does the heavy lifting to build your deployment package - and lucky for you it's faster (filters!) and more versatile (managed components!) than Salesforce change sets. It also provides multiple formats to download your package:
📄Package.xml - is like a "list" of metadata components, which should be used if you wanted to deploy later, or deploy using a different tool than FuseKit (although we don't know why you would ever want to do that).

📦 Metadata Package Zip - this contains all of the details of the metadata components, and should be selected if you are going to deploy immediately.
Build Metadata Package isn't only useful in a Deployment context, though. Let's say you're an Admin who needs to update the help text on 50 of your fields and don't want to suffer through all of those clicks in the Salesforce UI – you can download your fields in a metadata package zip, make the changes directly in the file, zip it all back up and voila! send it back to the org it came from (pro tip: use FuseKit's Deploy Metadata tool for that last step).
Using this tool is simple – just choose your org and metadata types, apply any filters, select your components, then download. Booyah!
---
Retrieve Metadata from Package
The Retrieve Metadata from Package feature allows you to build your metadata package from an existing change set or xml file. This is useful if metadata has already been added to a change set, but you would rather deploy or adjust the package with the speed and accuracy of FuseKit. It also comes in handy if you had previously downloaded your xml file, but then made changes to some of the components in Salesforce. Uploading the xml file will grab all of the up-to-date details of the metadata which can be downloaded as a Metadata Package Zip file for your deployment.
All you have to do is upload your package.xml file and/or type in any changeset names that you want to include, then click Retrieve Metadata! 💃
---
Generate Rollback Package
The Generate Rollback Package tool comes in handy when a basic level of source control is needed – also helpful to reassure your team that you've got a backup plan in case the deployment is a total disaster. It creates a snapshot 📸 of your org before you deploy to it, providing you the option to rollback the effects of the deployment if needed.
Make sure you have a package.xml file containing the "list" of items your deployment will impact (pro tip: If you don't have one, hop back over to the Build Metadata Package tool to build one). Pick your target environment, upload the file, and FuseKit will create the Restore Package, along with a neat visual of what the Restore Package contains. All you have to do now is download the Restore Package, and cross your fingers that you won't need to use it!
---
Deploy Metadata 🚀
Alright – your prep work is done, the package is built, and now it's go-time! The Deploy Metadata feature (you guessed it) allows you to deploy your metadata package zip file, that you built with either the Build Metadata Package or Retrieve Metadata from Package tools. There are plenty of options to adjust, but we typically just leave the defaults. The best part about this tool – you can deploy to and from any environment, no deployment connection required.
All you have to do is pick the org, upload your metadata package zip file, adjust any options, and click Deploy Metadata (drumroll please). Hooray, you are now an official Deployee-er!! 🎉
---
Way to go friend, we're proud of you for making it this far! We've covered some heavy hitters, but FuseKit still has more to offer. If you're ready for some more fun, the next section is the place for you!